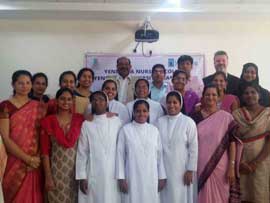 Report on PBCC Palliative Care Nursing-II contact session.
Report of Inauguration of PBCC in Palliative care Nursing &
Signing ceremony between Yenepoya Nursing College & MediAcion Germany.
Read more: PDF See pictures in the Gallery
5 day training for nurses at Yenepoya Nursing college
December 14th to 18th 2015
Information: PDF
Time table will follow.
Admission: use the sign-in-form
Curriculum: The UG curriculum of Indian and Foreign Palliative Care
experts written in May 2013 in Kerala is used for the PG use in this training.
Some topics are added: HIV, Dementia, Physiotherapy, Music-Therapy, Geriatric
Care and topics related to nursing. Download here
15 day advanced training at Mangalore
February 17th to 21st 2016 and
September 07th to 11th 2016 and
December 2016: timetable.
Only open for persons who attended the training December 14th to 18th or an equivalent
training (basic certificate course / e-learning; basic week at KMC Attavar or KMC Manipal)
Admission: use the sign-in-form
Information:PDF